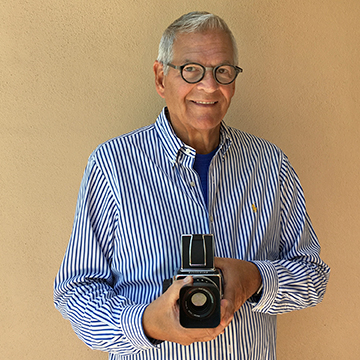 ABOUT MY WORK
The works of renowned American Photographer, Edward Weston and turn of the century French photographer, Eugene Atget have had the greatest influence on my artistic vision. Not unlike these photographic icons, I am drawn to subjects that reflect a sense of familiarity, romance, timelessness and intimacy.
I like to think of my images as memories … transporting the viewer back in time to our earliest recollections of our environment … from botanicals and still-lifes, to architecture and landscapes. Over the years, my photographs of Washington, D.C. landmarks, images of Italy, Paris and the Western United States have been recognized and admired professionally.
Since relocating to Florida in 2016, I have been exploring the genre of tropical subject matter … in both monochrome and color. Florida imagery is known for its iconic sunsets, beaches and wildlife. My goal as a creative photographer is to look beyond the obvious and create something unique from what is so known and recognizable.
Portraying the familiar in unfamiliar ways is what makes my vision noteworthy. After seeing my imagery for the first time, many individuals exclaim, "I've seen that before, but never quite like that!" I am frequently told that my images remind the viewer of places they have been or places they wish to visit.
On a technical note, my work integrates traditional/analog photographic processes with some of today's most advanced digital imaging technologies ... all to exacting museum standards. All of my images are printed in limited editions plus artist proofs.
In addition, I have recently developed a keen interest in 19th century photographic process (salted paper/calotype printing) first developed by William Henry Fox Talbot in England around 1840. This particular process lends itself well to my extensive body of European imagery … stay tuned!
BIOGRAPHICAL INFORMATION
I was born 1947 in Philadelphia, Pennsylvania. In 1957, my family relocated to the Washington, DC area where I attended public schools in Montgomery County, Maryland. I attended Montgomery College and The University of Maryland. I went on to study photography and fine art at The Brooks Institute of Photography in Santa Barbara, California. I have attended as well as taught photography workshops throughout my career. Photography has been my passion since early childhood when I was gifted a small Kodak reflex camera and darkroom developing kit.
Beginning in the late 1980s, my photographs began being professionally acknowledged and collected. They are included in numerous public, private and corporate collections in the United States and abroad. My photographs are held in the permanent collections of the former Corcoran Gallery of Art, The National Gallery of Art's Archive Collection, The Oakland Museum of California and the Smithsonian Institution's National Museum of American History to name a few.
From 2001 – 2016, I was a full-time Artist in Residence at The Torpedo Factory Art Center in historic Old Town Alexandria, Virginia. I have been a member of The Torpedo Factory Artist's Association from 2001 to the present.
Since 2016, my wife, Lesley and I relocated to Sarasota, Florida. In addition to making new work, I have taught at OLLI (The Osher Life Long Learning Institute) at the Sarasota Museum of Art, which is affiliated with The Ringling College of Art and Design.
Most recently, I have been exploring Florida's unique environment of skies, landscapes and flora; always looking for unique ways of depicting the familiar. I never stop looking beyond the obvious!